-50%
Car steering wheel for children
100% Secure Payment with Paypal & Shipping within 24 Hours
---
Car steering wheel for children
Are you looking for a new toy to please your child?
Opt for this simulation steering wheel, this steering wheel toy will provide hours and hours of excitement for your child. It is a new experience and education for your baby.
With the realistic effect of this lighted steering wheel simulator and also the sound effects, your child will feel like driving a real car.
Ideal and unique gift
This lightweight co-pilot steering wheel offers realistic features like a display with a working speedometer, speedometer and fuel gauge, as well as stereo sound effects and more to keep your toddler curious and interested! It's a great and unique gift with its flashing lights and sound effects.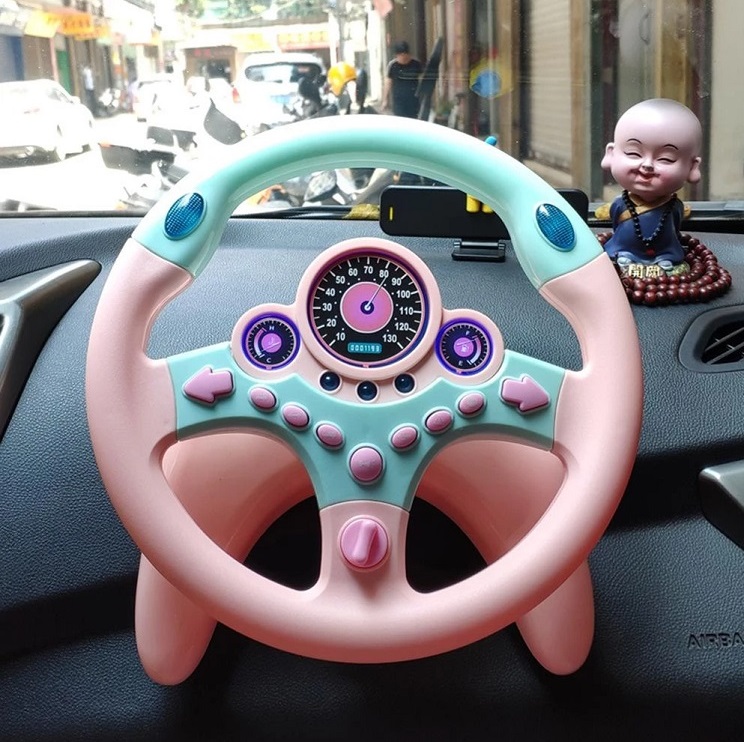 Development of fine motor skills and the sensory sense
By imitating the actions of the driver, your child uses those small finger and hand muscles to make precise movements to properly handle this steering wheel simulator. This steering wheel simulator has a good feature of developing and exercising baby's coordination and balance ability. With the unique dynamic music, it also enhances the sense of rhythm and helps cultivate the baby's sense of music. This improves his hearing ability.
Easy to attach
This toy comes with a suction cup attachment, with which you can attach the musical wheel to a smooth object.
Depending on your choice, the steering wheel is equipped with a support, which can be used in the rear of the car. By attaching the holder behind the front passenger seat, so that the baby can also play the steering wheel in the back, which is safer. You can also put your legs on the support to fix the steering wheel.
Specifications
Material : ABS plastic, non-toxic
Color : Pink-Blue and Black-Yellow
Power : 2 or 3 AA batteries (not included)
Size : Style 1: 20.5 x 19.7 x 6cm, Style 2: 25 x 25 cm and Style 3: 49 x 25 cm
Package includes : 1 x Steering Wheel Simulator